From May 14th to 16th, 2018, the 3rd International GNSS Monitoring and Assessment (IGMA) of Seminar of the ICG Group S and other series of meetings convened in Nooordwijk, Netherlands. Hosted by the European Commission (EC), the Chinese delegates from different institutes attended the meeting, including the International Cooperation Center and Evaluation Research Center of China Satellite Navigation Office (CSNO), National Timing Center and Shanghai Astronomical Observatory of Chinese Academy of Sciences (CAS). Meanwhile, related delegates of other GNSS Systems, coming from the United States, Russia, European Union (EU) and Japan, participate as well.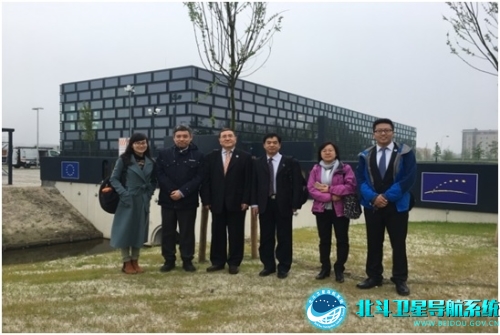 The IGMA Seminar is proposed by China and has already been successfully held for three times till now. The 1st and 2nd IGMA Seminars were sponsored by China and held in Xi'an and Shanghai in 2015 and 2017 respectively. Suggestions about unifying the format templates and algorithms of monitoring and assessment products were proposed during the 2nd IGMA Seminar. The seminar this year was held in the newly established EU Galileo Reference Center (GRC) and was the first time to be held in Europe. The meeting aimed at promoting the work of various IGMA working groups, and the unification of the format templates and algorithms of the GNSS monitoring assessment products of GNSS, and leads to the unification and completion of the normative services capabilities of GNSS.
At the seminar, Shuli SONG, from Shanghai Astronomical Observatory of CAS, gave two speeches about General Algorithm and Application of Monitoring Assessment of GNSS and Format Suggestions for Products of General Monitoring Assessment Parameters of GNSS respectively. These two reports introducec the content, definition, statistical method, output format, file naming rule and so on of monitoring assessment parameters of GNSS, an then give out the preliminary result of monitoring assessment and example of output. Participants from China and other sides discuss the algorithm of monitoring assessment parameters and the product's format together. During the meeting, Chinese delegates also presides the IGMA Target Group Meeting with Japanese and European delegates together.
During the ICG Group-S Performance Standard Group Meeting, Lianggao CHEN, from the Testing Assessment Research Center of CSNO presented a report on Considering and Suggestion on the Continuity of GNSS Space Signal. It introduced the definition of continuity of GNSS and elucidates opinions of that on China side. It also gave the module and related calculation method of continuity while proposals suggestions to continuity parametric. Chengyan HE, from National Timing Center of CAS, gave a speech on Specifications of BDS Service Performance. It introduced specifications of BDS public service performance in detail and elucidates the relationship between the specifications and the policy paper. Meanwhile, it presented the next step of specifications of BDS system performance.
Moreover, Chinese delegates team was invited to visit the receiver testing facility, Galileo Processing Center, UTC Library and Galileo Effective Payload Library of ESTEC, while attends the officially launch ceremony of GRC.