The 13th Meeting of the International Committee on Global Navigation Satellite System (ICG) opened in Xi'an, Shaanxi on November 5th, 2018. Attendees include Mr. Zhaoyao Wang, Chairman of China Satellite Navigation Committee; Mr. Heping Hu, Secretary of Shaanxi Provincial Party Committee and Chairman of the Standing Committee of the Provincial People's Congress; Mr. Gui Liang, Shaanxi Provincial Standing Committee Member and Executive Vice Governor; Mr. Yongkang Wang, Shaanxi Provincial Standing Committee Member and Secretary of Xi'an Municipal Party Committee; Mr. Changfeng Yang, Chief Architect of BeiDou Satellite Navigation System; Mr. Luke·San·Pierre, Chief, Space Applications, UNOOU\SA; Ms. Sarahfate·Gadimova, Executive Secretary of ICG Executive Secretariat; Mr. Libin Xiang, Vice President of Chinese Academy of Sciences; Mr. Baohua Yang, Deputy General Manager of China Aerospace Science and Technology Group Co., Ltd.; Mr. Yan Shi, Deputy General Manager of China Ordnance Industry Group Co., Ltd.; Mr. Ligong Li, Deputy General Manager Of China Electronics Technology Group Co., Ltd.; and Representatives from Ministry of Foreign Affairs, National Space Agency, State Intellectual Property Office. Mr. Chengqi Ran, Director General of China Satellite Navigation Office, presided over the conference.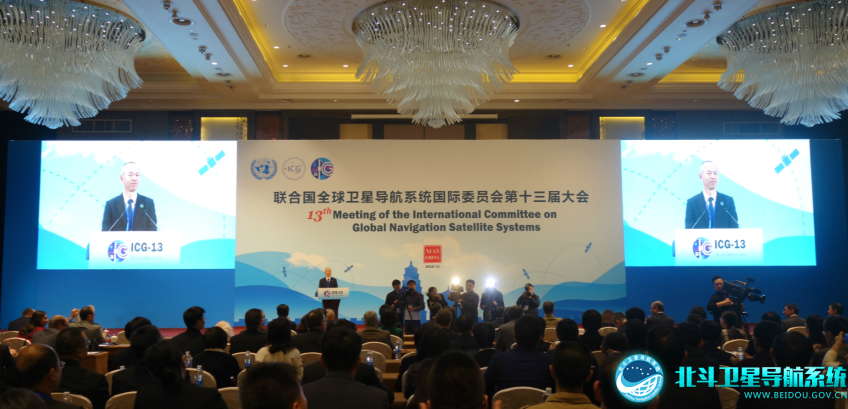 Representatives of the global and regional satellite navigation system providers, including China, the United States, Russia, European Union, Japan and Indian, other ICG members including Italy and the United Arab Emirates, the ICG associate member or observer International GNSS Service Organization (IGS), Asia-Pacific Space Cooperation Organization, International Aeronautical Association (FAI), etc.; and invited observer Australia, United Nations Regional Centers for Space Science and Technology Education, participated the meeting. More than 400 representatives gathered together to discuss the development of the global satellite navigation industry.
In the opening session, Mr. Zhaoyao Wang, Chairman of China Satellite Navigation Committee delivered a congratulatory letter from His Excellency Xi Jinping, President of the People's Republic of China. Mr. Heping Hu, Secretary of Shaanxi Provincial Party Committee, Mr. Libin Xiang, Vice President of Chinese Academy of Sciences, Mr. Luke·San·Pierre, Chief, Space Applications, UNOOUSA, addressed the meeting,. A special session for UNISPACE+50 was held, in which Mr. Mario Capporale and Mr. David Turner, the UNISPACE+50 Action Group Co Chairs of UNOOSA, made speeches to review how the founding process of the UNISPACE conference promoted the establishment of ICG. The conference officially released Global Navigation Satellite System Interoperability Manual for Space Service Domains (SSV).
As one of the core GNSS providers, China hosts this international gala in the field of satellite navigation again, after the ICG-7 meeting was held in Beijing in 2012. The meeting lasts for 6 days and the discussions will be focused on the compatibility and interoperability, global applications of satellite navigation systems. The meeting consists of the opening session, plenary meetings, Provider's Forum Meetings, working group meetings, technological and cultural tour, etc.. An exhibition on ancient Chinese navigation technology and the BDS development and application is held simultaneously to exhibit navigation and astronomical observation technology exemplified by Si'nan in ancient China as well as the BDS achievements on system construction and application development
The fact of BDS' marching out of the country and being integrated into the international society is reflected by the acceptance and recognition from international organizations, such as International Civil Aviation Organization, International Maritime organization, 3GPP. BDS will provide free global search and rescue service, conduct comprehensive international cooperation, while China-Russia Satellite Navigation Cooperation Committee as well as China-US, Sino-Europe working groups and working mechanisms have been established,. China-Russia Joint Satellite Navigation Monitor and Assessment Platform has been operational. The joint statements on system interoperability and compatibility were signed with the United States and Russia respectively. Those achievements have contributed to a more reliable and efficient user experience based on a multi-system win-win relationship. Cooperation mechanisms with South Asia, Central Asia, the Association of Southeastern Asian Nations(ASEAN), League of Arab States (LAS) have been set up. To implement President Xi's initiative on localization of satellite navigation system service in Africa, the first China-Arab BeiDou Cooperation Forum was held, the first China-Arab BeiDou/GNSS center was established in Tunis. An intensive BDS launch campaign has started. At the moment, 17 BDS-3 constellation satellites have been successfully launched, with 2 more to be launched by the end of the year. The system will possess the initial operation capability to serve countries and regions in the Belt and Road region.
At present China is preparing to build a national PNT system with BDS as its core, to study positioning, navigation, timing, and fusion technologies in deep space, underwater, and indoor domain. China calls for an enhanced cooperation among GNSS providers to jointly push forward innovative development of satellite navigation technologies as well as systems.