BDS satellite was successfully launched onboard a Long March 3B rocket at Xichang Satellite Launch Center. This satellite will operate on a GEO orbit. It is the seventeenth BDS-3 networking satellites as well as the first BDS-3 GEO satellite.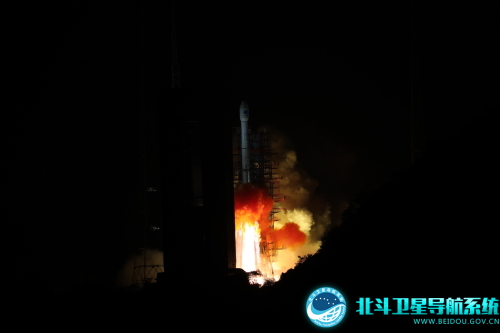 Besides the basic PNT services such as RNSS, this satellite will also provide RDSS and SBAS services. Especially, compared with its predecessors in BDS-2, the greatly enhanced short message service is backward compatible, while the service capacity will be increased by ten folds, and the required user terminal transmission power will be reduced by ten folds. The satellite-based augmentation services will be offered in accordance with international civil aviation standards to provide navigation services with improved precision and integrity characteristics.
This satellite has entered the pre-selected obit and will join the BDS constellation to provide reliable services for users, upon completion of its on-orbit test. According to plan, another two medium-Earth circle orbit satellites will be launched by the end of 2018.
The satellite and launch vehicle used in the launch are developed by the teams led by China Academy of Space Technology and China Academy of Launch Vehicle Technology respectively, both of which belong to China Aerospace Science and Technology Corporation. This is the 290th flight of the Long March rocket family.
According to the China Satellite Navigation Office, the 13th Meeting of the International Committee of Global Navigation Satellite Systems (ICG-13) will unveil on November 5th, 2018 in Xi'an, the origin of the Silk Road while the BDS-3 is about to be completed and to provide services to countries and districts along the Belt and Road Imitative. This is the second time that China hosts this gala on international navigation as the ICG-7 Meeting was successfully hold in China in 2012.