In order to promote the satellite navigation cooperation between China and Arab, the Second China-Arab States BDS Cooperation Forum is successfully held in Tunisia City of the Republic of Tunisia on April 1st, 2019 according to the Action Plan of China-Arab States Cooperation Forum from 2018 to 2020. This is the first time that BDS has its own important activity in the countries along the Belt and Road and in neighboring regions since it provides global services. It means that BDS makes great progress of its going out.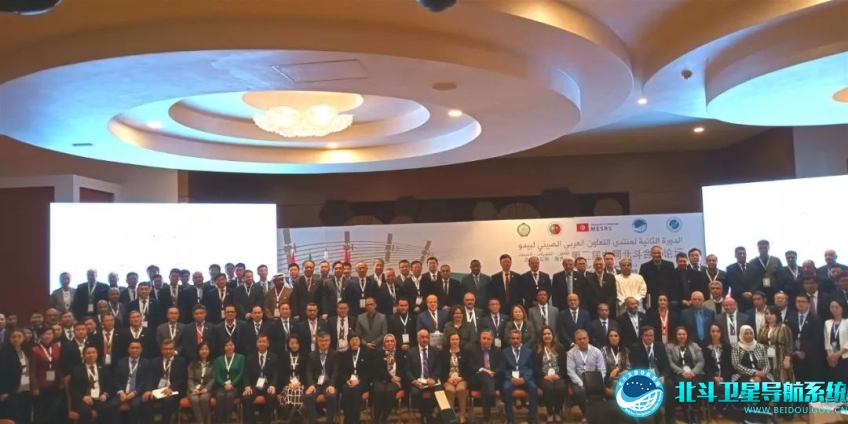 The topic of forum is collaboration, application and service, which is co-organized by Chinese secretariat of the China-Arab States Cooperation Forum (CASCF), secretariat of the League of Arab States, China Satellite Navigation Office,Arab Information and Communication Technology Organization while is host by Ministry of Higher Education and Scientific Research of Tunisia. The forum has several sections, including opening ceremony, main reports, special training, demonstrative experience, enterprises mutual communication and so on. Over 300 guests and delegates coming from Chinese and Arabic governments, relevant international organization, scientific research institutions as well as enterprises attend this forum.
In the morning of April 1st, Wang Zhaoyao, the Chairman of CSNC, Li Chengwen, the Ambassador for CASCF, Kamal Hassen Ali, the Deputy Secretary General Head of Economic Affairs, League of Arab States, Slim Khalbous, Minister of Higher Education and Scientific Research in Republic of Tunisia and Mohamed Ben Amor, SG, Arab ICT Organization, attended the opening ceremony and made speeches.
Delegates of China Satellite Navigation Office introduced the system construction, application and popularization, and international cooperation of BDS, and emphasized the collaboration achievement of China-Arab BDS/GNSS Center located in Tunisia since established. Experts and representatives from Chinese government and authorities, research institutions and BDS enterprises gave special reports that Arabian parties paid attention to, which were about BDS application solutions focusing on agriculture, transportation, public security and high precision, as well as scientific research cooperation, and talent cultivation. Delegates from Arabic government and authorities, user departments, and relevant enterprises shared the demand, current situation and prospects for cooperation on satellite navigation application in Arabic countries. Moreover, both parties also communicated on cooperation territory, cooperation pattern, and cooperation mechanism openly and pragmatically.
In order to show the performance and feature advantages of BDS, China and Arab co-organized the testing and experience activity of BDS and jointly issued the test evaluation result of BDS in Arab during the forum. This activity mainly bases on China-Arab BDS/GNSS Center and carries out static and dynamic states test and comment in Tunisia, Egypt, Sudan, Kuwait, Algeria, and other Arab states. The joint processing analysis result indicates that it could be used for Arab states to provide excellent navigation services under these circumstances including more than 8 average-visible satellites over Arab states, 10 meters or better positional accuracy, and more than 95% availability.
During the BDS application demonstrative experience activity, guests from Chinese transportation, public security fields, and other enterprises like UniStrong, ComNav Technology Ltd, CHCNAV, NORINCO, CETC, BDStarNavigation, CASC, showed the BDS application solutions and relative products to Arabian parties, especially some experience projects like traffic service platform and BDS agricultural service platform. These make delegates comprehensively understand and fully feel BDS application's charm and benefit.
China Satellite Navigation Office and Arab Information and Communication Technology Organization signed and released the Statement of the Second China-Arab States BDS Cooperation Forum during the forum. The statement reviews various works under the framework of the First China-Arab States BDS Cooperation Forum, demonstrates the achievements on construction of the China-Arab BDS/GNSS Center, organization of education and training, and promotion of precision agricultural programs. It highly affirms the cooperation between China and Arab on BDS has great effects on strengthening traditional Chinese-Arab friendship and improving public well-being of the two parties. The statement also emphasizes that China and Arab will set up a forum permanent secretariat to improve the forum mechanism together and guarantee the practice of consensus on the forum. It clears that both parties will have more cooperation on application industrialization, education and training, test and evaluation, technology research and development, augmentation system of BDS and other fields. The statement also reveals that the Third China-Arab States BDS Cooperation Forum will be held in China in 2021, which will continually fulfill the spirit of the Belt and Road and drive the cooperation of satellite navigation between China and Arab states. The statement has great significance on improving the forum mechanism, enriching the connotation of cooperation, brewing the cooperation projects and helping BDS to provide better services for Arab states' construction.
According to introducing, BDS is an important time and space infrastructure of national significance. BDS starts to provide global service since December 27th, 2018. Currently, BDS global service accuracy is better than 10m and the availability is over 95%. Recent years, BDS has been widely applied in different fields of different countries including confirmation of land rights in Indonesia, construction in Kuwait, national land monitoring in Uganda, precision agriculture in Myanmar, maritime piling in Maldives, unmanned aerial vehicles in Cambodia, warehouse logistics in Thailand, airport timing in Pakistan, electric power inspection in Russia. Arab regions have already enjoyed BDS services, which have broad development prospects. According to the engineering construction plan, China will launch more than 10 BDS satellites to complete the BDS global networking deployment and provide more reliable satellite navigation services with more functions and higher precision by 2020. A more syncretic and more intelligent PNT system which is based on BDS will be established in 2035. Thus, BDS will provide services to global users with more functions and better performance.
China will always hold the principle "China's BDS, world's BDS, top-ranking BDS", and devote to satellite navigation international cooperation, forge ahead BDS system to go-out steadily, provide better services to global users, and finally contribute Chinese wisdom, solution and power for building the community with shared future for mankind.