The 10th China Satellite Navigation Conference (CSNC) was held in Beijing on May 22nd, 2019. With a theme of "Navigation, Ten Years and Beyond", the conference systematically displays the achievements of the past decade, firmly grasps the current opportunities, and comprehensively discusses the development prospects. "Born to BeiDou, growing up with BeiDou", after ten years of development, the conference has been held in Beijing, Shanghai, Guangzhou, Wuhan, Nanjing, Xi'an, Changsha, Harbin and so on. It has promoted the integrated development of satellite navigation technologies and the rapid development of the local BDS industries.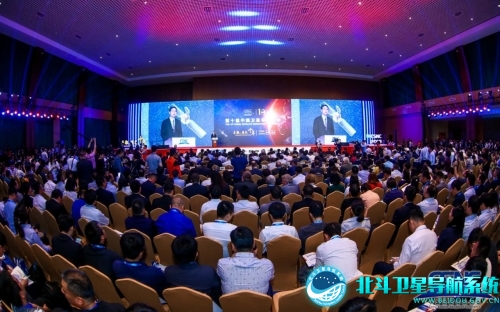 The CSNC program includes four categories, namely, summit forums, academic exchange, exposition of achievements and high-end forums, which aim at encouraging and appealing more institutions, experts and scholars to take part in the development of BDS and associated applications; promoting the satellite navigation technology innovation, application development and industrialization; strengthening international exchanges and win-win cooperation, and pushing forward satellite navigation to better serve economy, society and people's life. More than 3,000 delegates attend the conference.
This year's CSNC invites internationally renowned experts, scholars and entrepreneurs from academia and industry to participate in the conference. It carries out discussions and exchanges around key technological breakthroughs, innovative integrative applications, and overall industrial development. Through the integrated applications of mobile communication, Internet, Internet of Things, big data and other technologies, it will help the development of information industry, manufacturing industry, service industry and other fields. The conference organizes 11 professional technical branches to carry out in-depth discussions and communications including satellite navigation industry applications, navigation and location-based services, navigation signals and signal processing, satellite orbits and systematic error processing, spatial datum and high-precision positioning, time datum and precision timing, satellite navigation augmentation technologies, test and assessment technologies, user terminal technologies, PTN system and multi-source fusion navigation, anti-jamming and anti-spoofing technologies. During the conference, delegates of satellite navigation system authorities in China, the United States, Russia, and countries and regions in Europe releases the latest progress and development plans of their satellite navigation systems. The conference also holds forums on the application industrialization, policies and regulations, standards and intellectual properties. A CSNC-ION joint forum jointly with Institute of Navigation (ION) of the United States, a coordinated development forum with TD industry association, and BeiDou industrial park development forum with some industrial parks are also included in the program. Other distinctive forums discuss topics like BeiDou+ intelligent network cars, BeiDou+ digital agriculture, BeiDou+ high fusion, BeiDou+ intelligence Olympic Winter Games.
The conference exhibits the results of the 10th "BeiDou Cup" National Youth Science and Technology Innovation Competition and the 2018 BDS Pilot Dreams event, and present awards to outstanding individuals. Meanwhile, China Satellite Navigation Achievement Exposition is held in the same period, focusing on achievements of the BDS development. The latest BDS basic products such as chips, modules, terminals, etc., as well as new applications, new cases and new patterns arising from the integration of BDS and other technologies are also showcased.
This conference is supported by China Satellite Navigation Office, Treaty and Law Department of Ministry of Foreign Affairs, Science and Technology Department of Ministry of Education, High-tech Development and Industrialization Department of Ministry of Science and Technology, Electronic Information Department of Ministry of Industry and Information Technology, Land Surveying and Mapping Department of Ministry of Natural Resources, and many other related governmental departments and agencies.
The conference is co-organized by the Academic Exchange Center of China Satellite Navigation Office (CSNO), Bureau of Economy and Information technologies of Beijing Municipal Government, and the Municipal Government of Shunyi District of Beijing.
BDS is an important state space infrastructure. Since its completion in 2018, the BDS preliminary system has been working continuously in a stable condition. Currently, BDS has entered the era of global services. With its application industries emerging rapidly, BDS becomes a striking "State Namecard".
The BDS system development inherits the features of its previous generations, matches the world-class standards. The BDS-3 Preliminary System is completed to provide global services with positioning accuracy better than 10 meters. In the future, new services such as satellite-based augmentation, short message communication, international search and rescue, and precise positioning will be provided, and better navigation signals will be broadcast. At the same time, the BDS-2 system, which has been operating steadily for six years, has been steadily improved in its performance. Four backup satellites have been launched. The system is more stable and the positioning accuracy in the Asia-Pacific region remains at the level of 5 meters. In addition, the construction of the BDS Ground-based Augmentation System results in nation-wide network, which can provide real-time centimeter-level high-precision services. An International GNSS Monitoring and Assessment System is completed, which possesses the capability to monitor and assess the four major satellite navigation systems, including BDS.
From the aspect of application industry, a complete industrial chain has been formed. The standardized use of BDS in national security and key areas and the large-scale BDS applications in the mass consumption market are accelerating the emergence of a new mode of "BeiDou+" integrated applications. In 2018, China's domestic navigation industry output value has exceeded 300 billion yuan. At present, the technological craftsmanship level of the domestically produced BDS chips has stepped into a new era of 28 nanometres. For the Internet of Things and consumer electronics applications, the chips which comprehensively adopting the new BDS-3 signal system have been introduced. The chip overall performance has reached or even surpassed that of similar products in the world. Domestic BDS chips have achieved large-scale applications, with a total sales of more than 80 million pieces. High-precision OEM boards and receiver antennas have been accounted for 30% and 90% of the domestic market, respectively. The BDS high precision products have been exported to more than 100 countries and regions, and the BDS Ground-based Augementation technologies and products are exported overseas systematically.
From the aspect of the international cooperation and exchanges, BDS has stepped out of the country and is speeding up its entry into the world. Establishing the China-Russia Satellite Navigation Major Strategic Cooperation Project Committee and the China-US Satellite Navigation Cooperation Machanism, signing the China-Russia Intergovernmental Cooperation Agreement on Satellite Navigation, and signing the Joint Statement on System Compatibility and Interoperability with the United States and Russia respectively, are accelerating the win-win development of multi-systems, ensuring better services for global users, providing China's programs and making China's contribution. China has been actively participating the work of the United Nations International Committee on Global Satellite Navigation Systems (ICG). After hosting the Seventh Meeting in Beijing in 2012, the thirteenth Meeting was held in Xi'an in 2018 to promote the vigorous development of global navigation satellite systems. We will continue to promote international BDS standards, actively participate in the drafting and revision of international standards for civil aviation, maritime affairs and mobile communications, and make important progress in the relevant work of the International Search and Rescue Satellite Organization and the International Electrotechnical Federation (IEC). China accelerates the process of global BDS applications, establishes cooperation mechanisms with more than 30 countries and international organizations, constructs the first BeiDou/GNSS Center in Tunisia, successfully holds the Second China-Arab State BeiDou Cooperation Forum, and steadily promotes the BDS services, products and enterprises to the Arab countries.
By the end of 2019, six to eight more satellites will be launched to enhance system performance continuously; and in 2020, BDS will be fully developed as one of the world's first-class satellite navigation systems to provide better services. By 2035, with BDS as the core, a more comprehensive, more integrated and intelligent national integrated positioning, navigation and time (PNT) system will be completed.
"A top-class BDS is made in China, but for the whole world". With a new attitude, stronger function and better performance, BDS will serve the world and benefit the mankind.