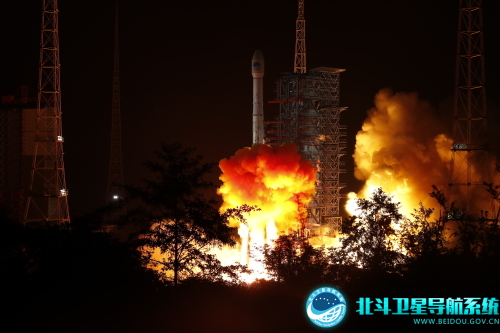 The 49th BDS satellite was successfully launched onboard a Long March 3B rocket from Xichang Satellite Launch Center at 01:43 on November 5th, 2019,which marked the completion of launching all the three BDS-3 IGSO satellites.
The first successful launch of a BDS-3 satellite on November 5th, 2019 opened a new era of the BDS global constellation deployment. During the past two years, through concerted efforts of 7 systems, more than 300 research and test units, and tens of thousands of scientific researchers, 16 satellite launching missions were completed, with 24 BDS-3 constellation satellites and 2 BDS-2 backup satellites being launched into the scheduled orbits. At present, the BDS-3 construction has entered the final stage of sprint. In the future, 6BDS-3 constellation satellites will be launched to fully complete the BDS global system.
The BDS satellite and the launch vehicle used in the mission are developed by China Academy of Space Technology (CAST) and China Academy of Launch Vehicle Technology (CALT) respectively, both of which are affiliates of China Aerospace Science and Technology Corporation. This is the 317th flight of the Long March rocket family.