China successfully launched the 54th BDS satellite by a Long March-3B launch vehicle from the Xichang Satellite Launch Center at 19:55 on Mar. 9th, 2020. The satellite successfully entered the designated orbit, and will be commissioned after completing the orbital transfer, in-orbit test, test and evaluation.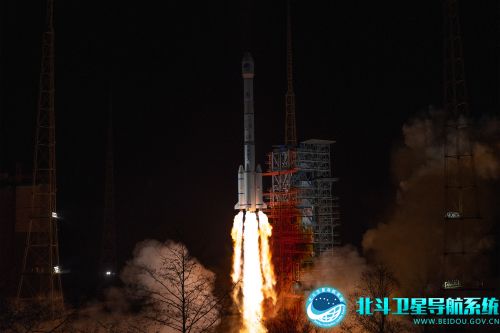 The BeiDou Navigation Satellite System (BDS) has been developed following a three-step development strategy, including BDS-1, BDS-2, and BDS-3. At present, BDS-1 is already retired, which consists of 4 BeiDou navigation experiment satellites. Starting from the 1st satellite of BDS-2, so far, 54 BeiDou navigation satellites have already been launched. BDS-3 is only one step away from the completion.
BDS-3 is comprised of 30 satellites, containing 24 satellites in Medium Earth Orbit (MEO), 3 satellites in Inclined Geo-Synchronous orbit (IGSO) and 3 satellites in Geostationary Earth Orbit (GEO). The satellite launched during this mission is the 29th constellation satellite, and also the 2nd GEO satellite of BDS-3. GEO satellites play a key role in featured services, such as satellite-based augmentation, short message communication, and precise single point positioning, etc. The last GEO satellite will be launched as planned in May, while the global constellation deployment of the BDS-3 will be comprehensively completed.
The whole process of this launching mission, from the arrival of satellite at the launch site on Jan. 9th, till the launch on Mar. 9th, took place during the prevention and control of COVID-19. The launch vehicle left the factory for transportation at the beginning of February. Its prescheduled transportation route might pass through the most severe epidemic area in Hubei Province. After changing its route, the arrival date of the launch vehicle was two days later than planned. Dozens of working staff in launch vehicle test team and satellite test team had already left the launch site for statutory holiday of the Spring Festival. Due to the epidemic, they could not return back to launch center to continuously perform their on-site tasks. Meanwhile, there is huge risk on epidemic prevention and control, with multiple batches and multiple regional personnel entering into the launch site. Under such circumstances, each major system of the BDS project quickly initiated the contingency plan, strictly implemented various epidemic prevention measures, optimized work process, made back scheduling, adopted measures such as staffs arrived in the launch site by chartering flight, carried out remoting video at the front and rear for technical quality control, and realized the perfectly safe and all-round victories on both epidemic prevention and control and system construction.
The satellite and the launch vehicle for this mission were developed by the China Academy of Space Technology and the China Academy of Launch Vehicle Technology respectively, both are affiliated to the China Aerospace Science and Technology Group Corporation Limited. The launch was the 327th mission of the Long March rocket series.